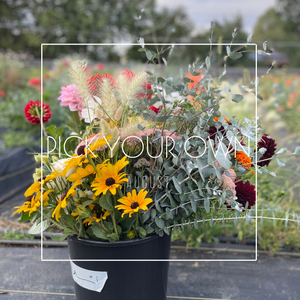 Join us in the garden at sunrise to pick flowers on Saturday, August 12.  We'll give you a tour of our gardens and share with you our favorite flowers of the season and demonstrate how to properly pick them.  Each ticket will come with one harvest bucket that you will get to fill and take home with approximate 80-100 stems.  Come enjoy the morning magic with live music, fresh pastries, and wonderful conversation.  

Time:  The exact time of sunrise shifts through the season. Please plan to be at the farm approximately 15 minutes before sunrise.  Generally, sunrise is around 6-7 a.m. and the event lasts for approximately 2 hours.
 Cost $175 per bucket, plus tax.  (175.00+13.82=188.82)
If you would like to bring guests, it is an additional $25 per guest. This helps us plan accordingly for refreshments and tour guides. Guest ticket can be purchased separately. Young children are free if they are not enjoying refreshments, otherwise please purchase them a ticket so we can ensure there is plenty for everyone.
DESIGN WORKSHOP
Stay after for a Design Workshop from 9:00-11:00 and learn how to arrange the flowers you picked. Each month you will learn how to design a different type of arrangement.

1. August will be focused on designing a Hand Tied Bouquet for giving.
2. September will be focused on designing a Garden Centerpiece for your table. 
3. October will be focused on designing a Statement Piece for a mantle or foyer.

Additional Cost of $50/per person. You can also purchase just the Design Workshop and our gardeners will pick you a special Designer Bucket of flowers. See "Workshops" in the shop.